By TCI Government Press Office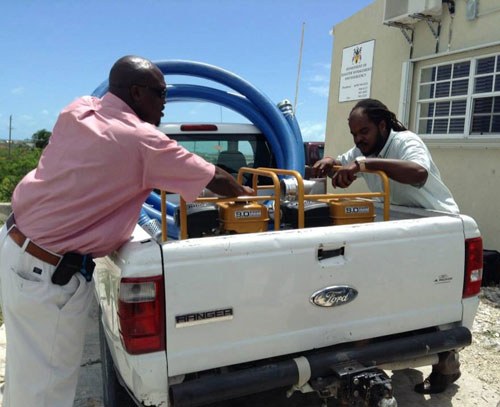 TURKS & CAICOS – The Acting Governor and the Premier of the Turks and Caicos Islands (TCI) convened a national disaster committee meeting about the country's ongoing recovery works from the floods caused by Tropical Storm Cristobal today, Tuesday, 2 September 2014.
Following the 14 inches of rain that deluged the islands of North Caicos, Middle Caicos and Providenciales over the weekend of 22-23 August 2014, there was significant flooding on each of these islands. The meeting also discussed the country's readiness for the remainder of this year's hurricane season which ends on 30 November.
At the National Disaster Committee meeting today the Acting Governor the Hon. Anya Williams and the Hon. Premier Dr Rufus Ewing were advised that:
To date TCI Government has incurred approximately $250,000 in estimated recovery costs.  This cost is directly attributed to the rental of heavy equipment, the creation of the new access route, the construction of five new additional wells in the Leeward district and other recovery costs, such as anti-mosquito chemicals.
All major roadways in the island of Providenciales have now been cleared, with pumps now being mobilized to assist private residents. Government workers have begun clearing debris from the main highway today, with this work due to be completed tomorrow.
In North Caicos major roadways in Bottle Creek have now been cleared and in addition to a new access route having been created in Kew, a trench is currently being put in place to allow drainage off the old existing road.
In regards to anti mosquito fogging, the Environmental Health Department has advised that fogging has already commenced in Middle Caicos, North Caicos and in Long Bay and Leeward coming down to Richmond Hills.  The areas of Chalk Sound and Downtown Providenciales will be fogged tonight and it is expected that this work will continue over the course of the next two weeks.
Damage assessment teams have been mobilized to the various affected areas on both North Caicos and Providenciales and will be assessing damages that are still in place.
That all residents should report all damage caused by Cristobal to DDME in order that the full impact of the storm can be reported.
The meeting also noted that in comparison to the flooding in North Caicos in 1995, when recovery took over month, all major recovery efforts have been concluded this time in one week.
"The positive way that our residents, civil servants and the private sector have come together to successfully deal with adversity is quite remarkable ," said Anya Williams. "Of particular note was the Rotary Club of North Caicos who paid for two pumps and hoses on that island, and the developers behind the Shore Club helping out in the Leeward and Long Bay areas. Their efforts are greatly appreciated."
"Our country is bouncing back from these floods," said Dr Rufus Ewing. "The efforts of everyone involved are very much appreciated – lots of people have been working very hard to help return things back to normal as soon as we can. The good news coming out of this situations that the Turks and Caicos can successfully deal with adversity, and I am sure that this experience will help ensure that we are even better prepared for whatever might come our way in the future. God, bless these Turks and Caicos Islands."

Reposted from: http://www.thebahamasweekly.com/publish/TCI/TCI_Government_Convenes_National_ Disaster_Management_Meeting36775.shtml